THIS MOTHER'S DAY I GIVE 100% PLASTIC-FREE LOVE AND SUPPORT PLASTIC SOUP FOUNDATION 💕
Surprise your mom this Mother's Day with the best gift you can give her. 100% Plastic-Free Love.
For your mother, of course, you want only the very best. But sometimes it's okay to give a little less. Not the amount of love you give her through your present. But the amount of plastic. Therefore, give her Plastic Free Love this year as a surprise gift for an amount of your choice.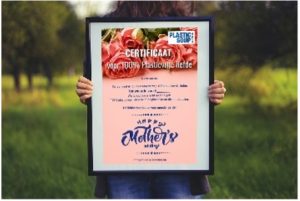 Support our work this Mother's Day with a gift and receive a certificate for 100% Plastic-Free Love. You can give this certificate to your mother to let her know how much you love her.
With Plastic-Free Love, you help us turn off the plastic tap.
Out of love for your mom and for mother earth
NOTE. You will receive the special 100% Plastic Free Love certificate by email to print out yourself.